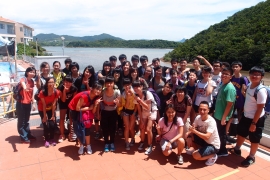 On 8 - 9 July 2013, forty S2 and S3 students joined the Leadership Training Camp held at HKFYG Jockey Club Sai Kung Outdoor Training Camp. The camp was organized by Peer Group Guidance and School Social Workers. It aims at training our S.2 and S.3 students to serve as Big Brothers and Big Sisters who would help our S1 students adapt to new school life. It also enhances their self-confidence and abilities that are vital to their personal growth.
The training enriched their life experience beyond the classroom. Each team had to complete different tasks in which teamwork, determination and problem-solving skill were exhibited. Most impressively, even they were physically exhausted after climbing the "High Wall", they were still excited in sharing their experiences.
To our greatest delight, students not only learnt a lot in organizing activities but also gained friendship with their working partners. All the participants had shown great commitment to every event of the camp. All their gracious efforts in making the camp a successful one were highly appreciated.